ABOUT KAYAKING ON SKADAR LAKE
MH Travel Agency organizes English-speaking tours, especially for a small number of guests, and private tailor-made itineraries. Every guest in Montenegro, no matter where is accommodated (hotel, hostel, guest house, private apartment, cruise ship, campsite, luxury resort, etc) can participate in our tours. Look at the overview, highlights, itinerary, video presentation, photo gallery, terms, and conditions of the tour. If you like to take a seat on it you can easily make an online reservation, using the button BOOK NOW!
kayaking on Skadar lake WITH MH TRAVEL agency
DAILY ACTIVITY

IN

MONTENEGRO...

DEPARTUREs FROM

PODGORICA, BUDVA and KOTOR...HIGHLIGHTS:

SKADAR LAKE

...

DURATION:

5 HOURS...

TICKET PRICE

€30.00 (FROM PODGORICA), €35.00 (FROM BUDVA), €40.00 (FROM KOTOR)
MH Travel Agency organizes kayaking on Skadar Lake as one of the most wanted activities, especially during the summer months. We will go to Virpazar, the most popular tourist village on Skadar Lake, which is the best location for safe kayaking. If you like water activity in an easy-going way being surrounded by the lovely nature of Skadar Lake, this is absolutely the right option for you. This activity can be organized as a group kayaking, as well as the single one. We have all types of kayaks. Our kayaking is lightweight and it could be practiced by people with lower fitness capacities (seniors) and children, therefore we warmly recommend you to join us. Welcome!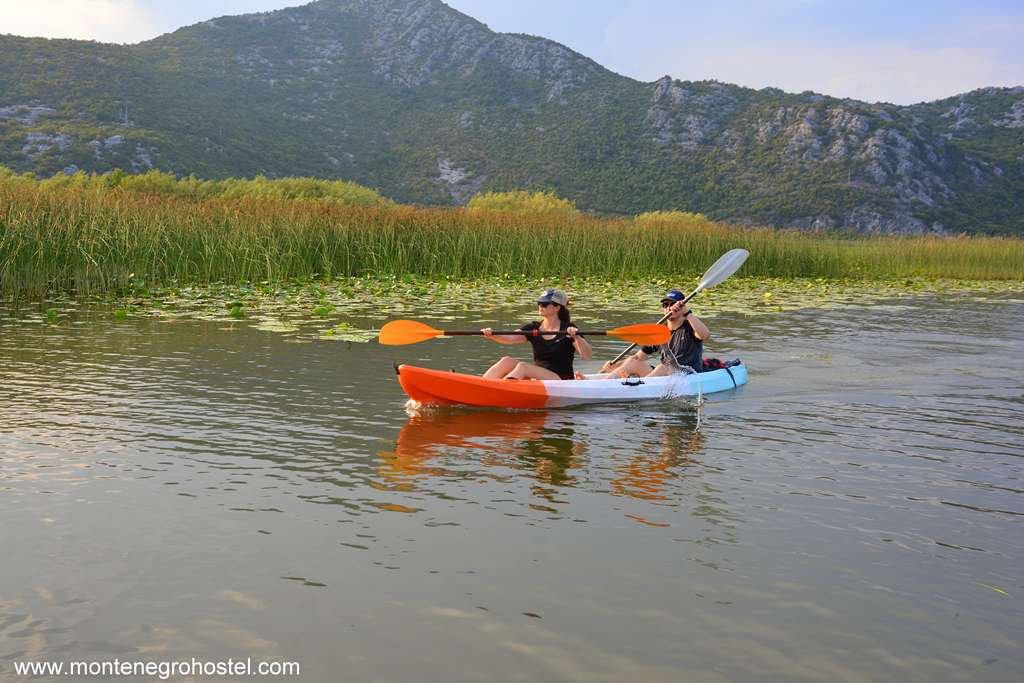 WHEN AND WHERE WILL WE START?
The tour departs from Kotor at 8 in the morning, which is the standard time for all our trips. After a maximum of 45 minutes of driving, we will arrive in Budva, where we will pick up guests. We will arrive in Podgorica 60 minutes later, picking up the guests and continuing our journey. If guests take the private tour we will pick up them from their accommodations. Also, if guests stay in some accommodation close to our route (for example guests from Cetinje), we can pick them up on the main road. Pick-up location can be flexible sometimes if suits guest better than the standard one.
NOTE: The number of kayaks is limited so the bigger groups can go on this tour only on demand.
WHERE WE WILL GO?
We will go to Virpazar on Skadar Lake.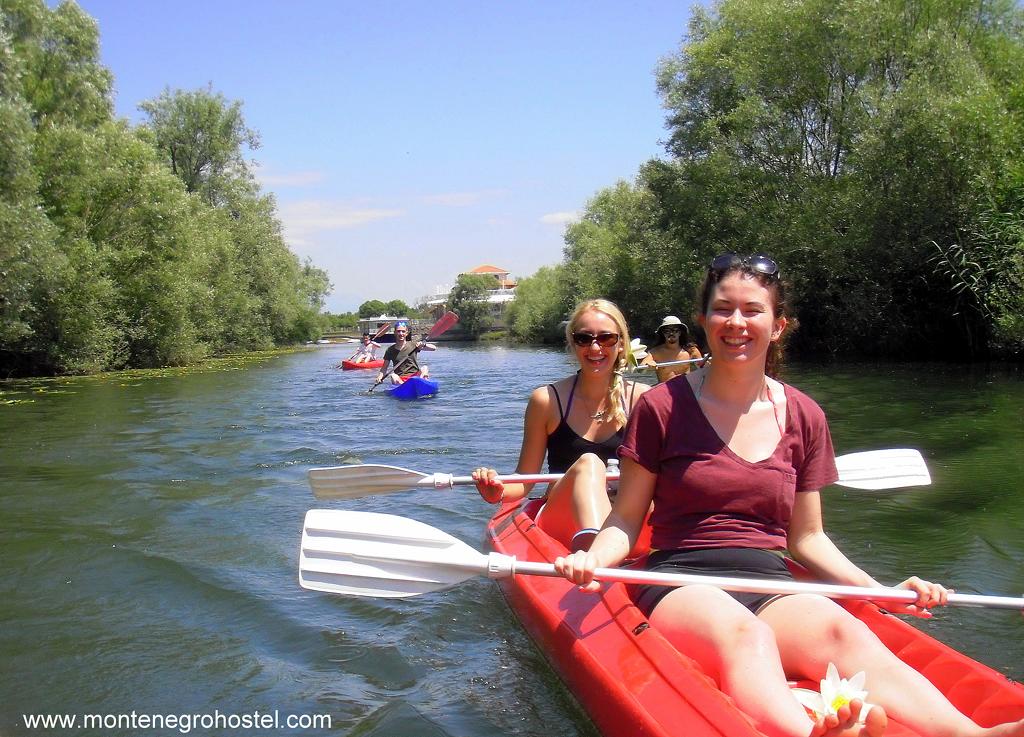 After we start the tour we will head directly to Virpazar, the village of Lake Skadar where kayaking takes place. Guests will get kayaks and they need to put on all necessary protection from the sun heat (hat, sunglasses, and sunbath cream to protect the skin). Sun reflection from the lake water is very intensive and can make red skin, especially on the face.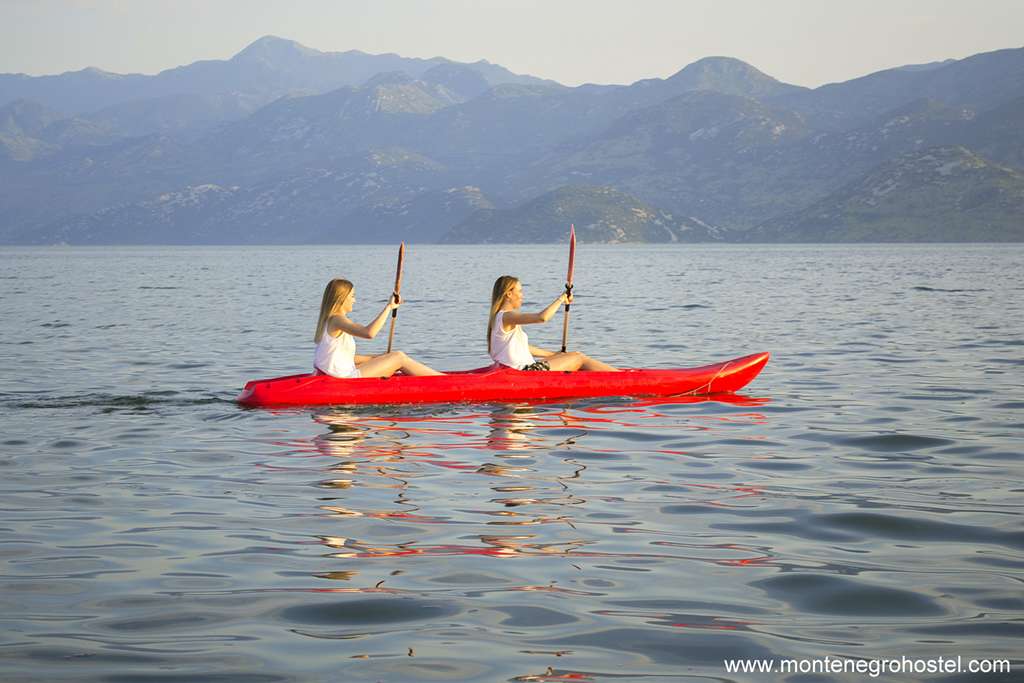 First, guests will go by the lake channel from Virapazar to the open side of the lake. On the right guests will see the Albanian part of the lake and mountain Rumija, and on the left side guests will see the fortress Lesendro and island Vranjina. Guests can decide on which side of the lake they will prefer to go, through lush vegetation, a rake, a reed, and a sash, where they will be able to see numerous lake birds, and where can stop and swim any time. Lake water is up to 30°C in the summer months.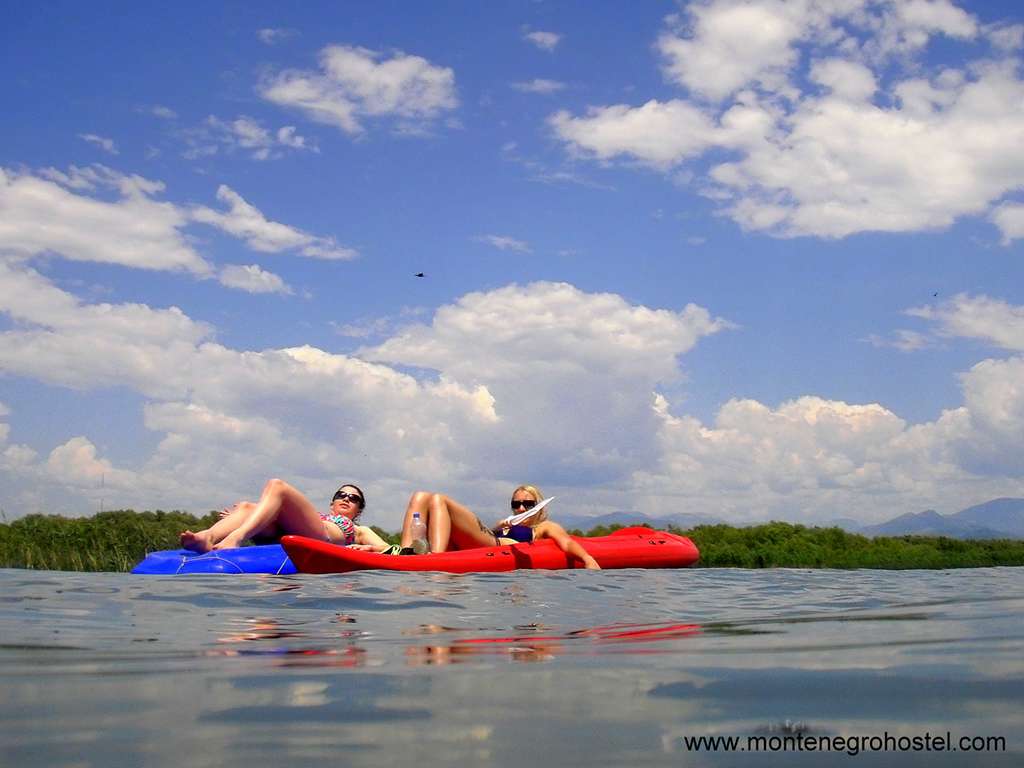 Our kayaking lasts 3 hours. After kayaking, we will head back to Podgorica, Budva, and Kotor.
WATCH THE VIDEO OF KAYAKING ON SKADAR LAKE
MORE PHOTOS OF KAYAKING ON SKADAR LAKE CAN SEE HERE.
BOOKING AND PAYMENT
Tour tickets can be bought online via the BOOK NOW! option, or directly at the reception of Montenegro Hostel B&B Budva (address: Vuka Karadzica 12, located in the old town of Budva GPS Latitude 42,278238 Longitude 18,837430). and Montenegro Hostel B&B Kotor (address: Stari Grad 333, located in the old town of Kotor GPS Latitude 42,424562 Longitude 18,771051). The last online booking can be made until 21:00 (9 pm) the day before departure. After that time, the ticket can only be purchased at the hostel's reception until 23:00 (11 pm) the day before departure. Guests who stay in Podgorica can book only online.
NOTE: We can also organize a private Kayaking on Skadar Lake. If you have any special requests contact us by e-mail at This email address is being protected from spambots. You need JavaScript enabled to view it.
WATCH THE VIDEO OF TOUR CONDITIONS
Tour is organized by air-conditioned cars, minivans, or minibusses.
PRICE INCLUDES
Transfer to Virpazar and kayaks (single kayak, two-seater kayak, or three-seater kayak)
PRICE DOESN'T INCLUDE
Entrance fee for Skadar Lake National Park of 4 euro
Guests can use their own food and drink (breakfast and lunch are not mandatory).
NOTE: Guests who want to bring their luggage on the tour and finish the tour in another city (Kotor, Budva, or Podgorica) can easily do that. There is no luggage fee.
Before you decide to purchase the tour ticket check our itinerary and terms and conditions.
For more info about the tour and booking, contact us on e-mail at This email address is being protected from spambots. You need JavaScript enabled to view it. or by phone (Viber and WhatsApp) at +38269039751
Hope you will enjoy our tour:)

MH Travel Agency Team